Welcome!
Thank you for visiting our new site. We hope you will find it more user friendly and helpful. Any questions email us.
Access them below or click on our showroom tab.
We hope you will find our new website helpful and easier to work with.
Featured Item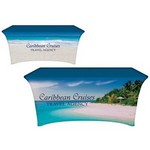 6' Digitally Printed Stretch Table Cover...
Cover more promotional area than your competitors with the 6' digitally printed stretch table cover! Provide a sleek look and draw crowds to your table at conventions, conferences, and trade shows wit...
$125.00 - $255.00
Wedding, Holiday, Business Greetings and More!
We're glad you're here, because we offer personalized invitations and social stationery for these important events and many more. All designs are on trend. All are of the highest quality with exceptional printing. All are crafted just for you.
Browse through our Online Store. Together, we'll find the perfect way to start your celebration.
Signature Showrooms